As I shift from observing DAOs to actively participating in them, I'm interested in finding tools that will help me do so efficiently.
Boardroom, a web application which "facilitates simple and transparent stakeholder oversight and management of DAOs," appears to be best product the market has to offer.
Boardoom's homescreen features a dashboard with information about upcoming proposals and voting history across all DAOs. There are also links to content from Boardroom's (very informative) podcast and newsletter, and a feed with the user's personal voting history.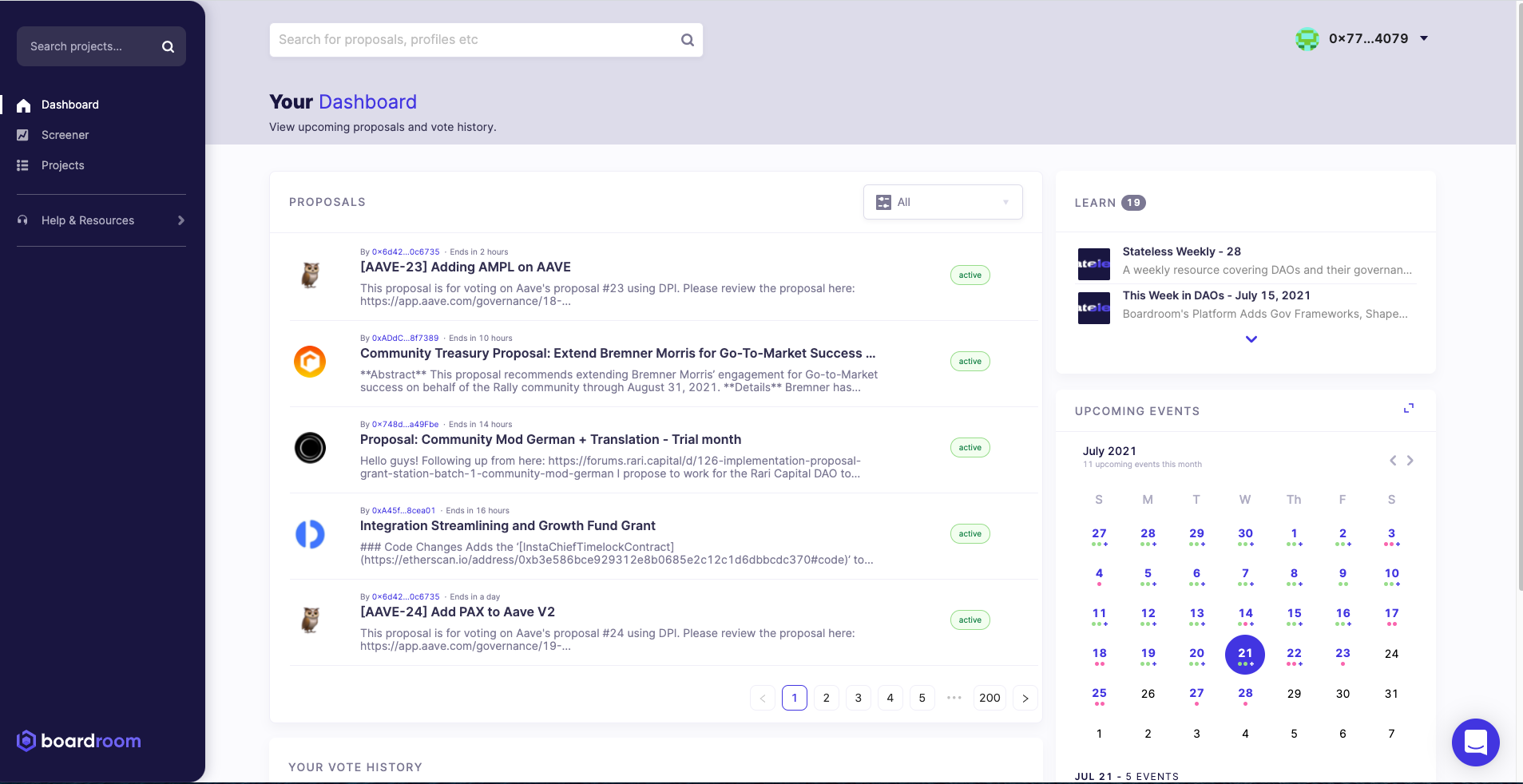 The screener page features key metrics for the DAO ecosystem such as total assets under management and number of voters across all DAOs along with detailed information for individual DAOs.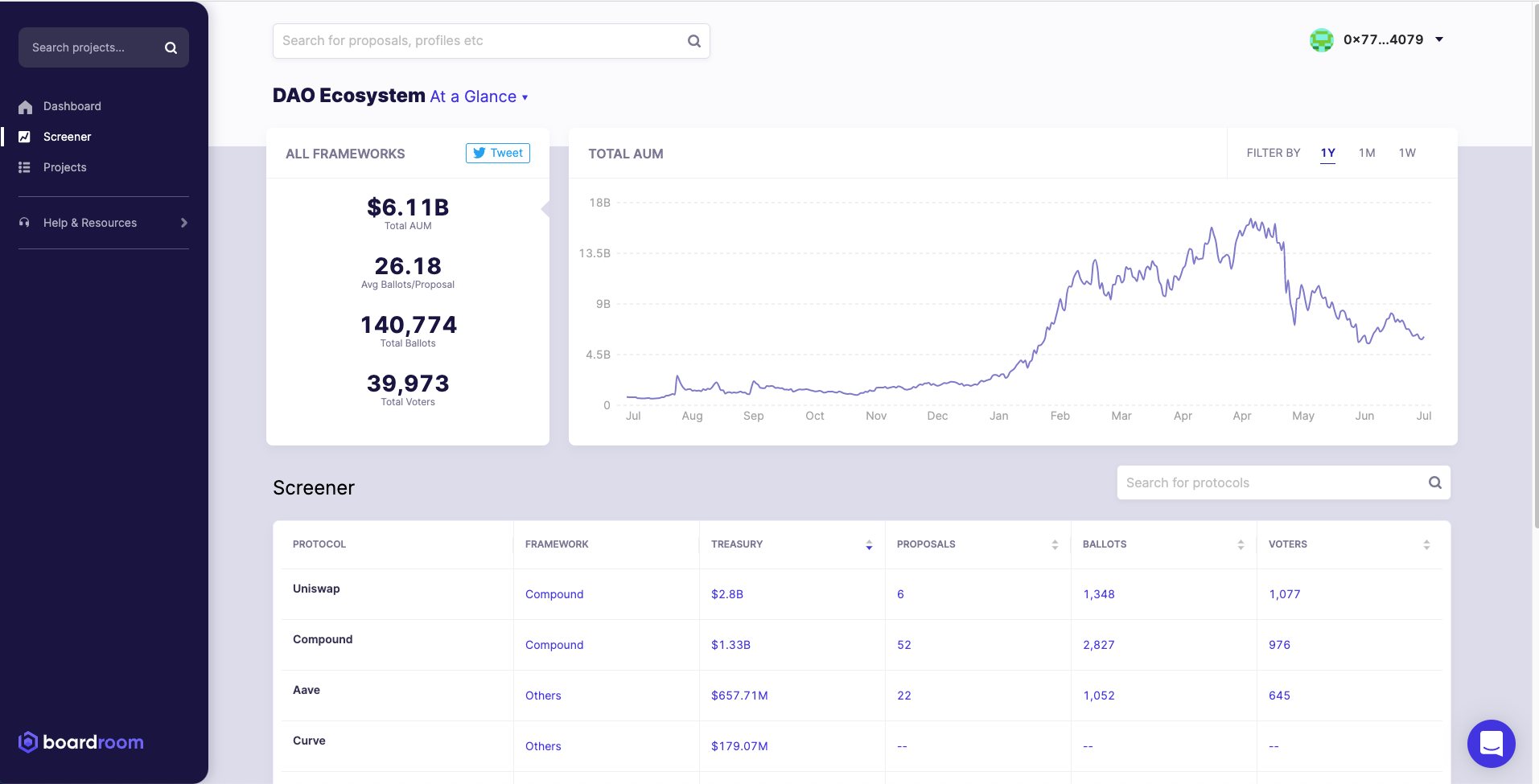 For my purposes, the projects section is where the magic happens. I'm presented with a screen where I can see all DAOs supported by Boardroom and can add favorites by clicking a star.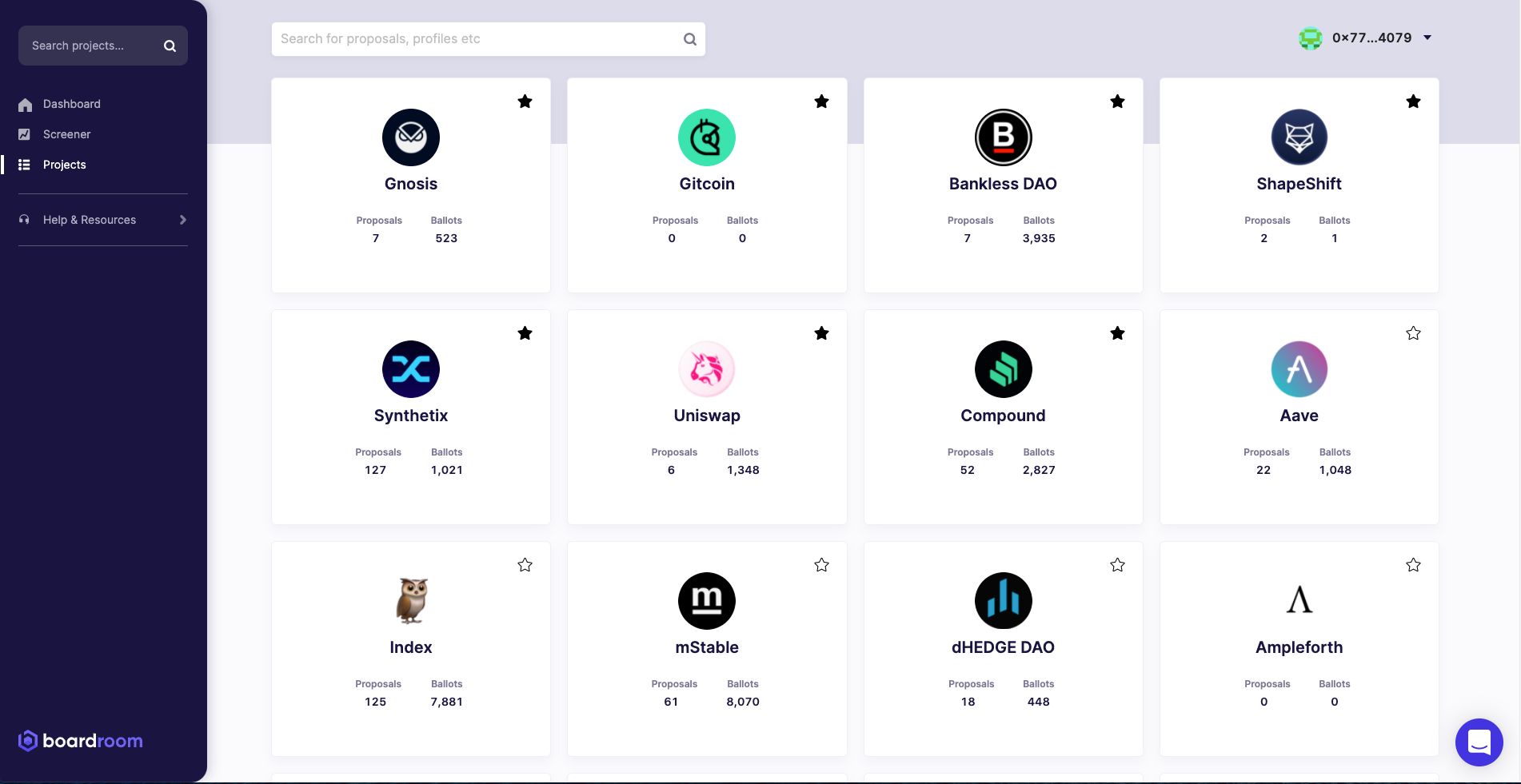 I've just claimed my FOX tokens from the recent Shapeshift airdrop and am eager to get involved with Shapeshift DAO so I navigate to their page. From a single location I now have access to:
A high-level description of ShapeShift DAO's mission, governance parameters, and organizational structure
The DAO's Discourse based discussion forums neatly integrated into the Boardroom interface
An ideation page where ideas can be discussed before being crafted into official proposals
A page where I can create and vote on proposals via Snapshot and see a list of voters
A treasury page where I can see the DAO's current holdings, transaction history, and a list of people registered to receive payouts from the treasury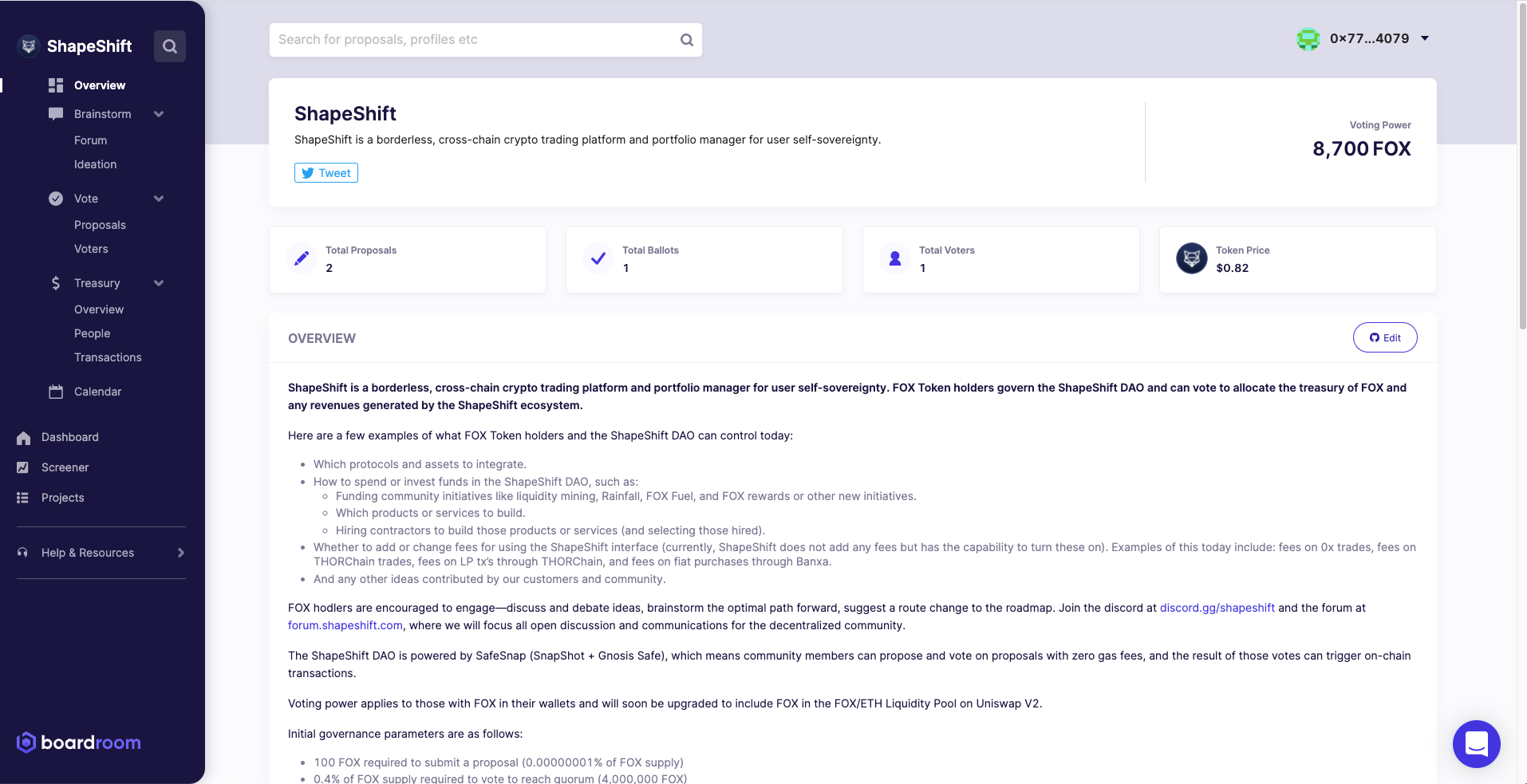 There's one active proposal being considered by the DAO. After reading the proposal and checking out the discussion on the forums, I've decided I want to support it and can vote "Yes" with a couple button clicks.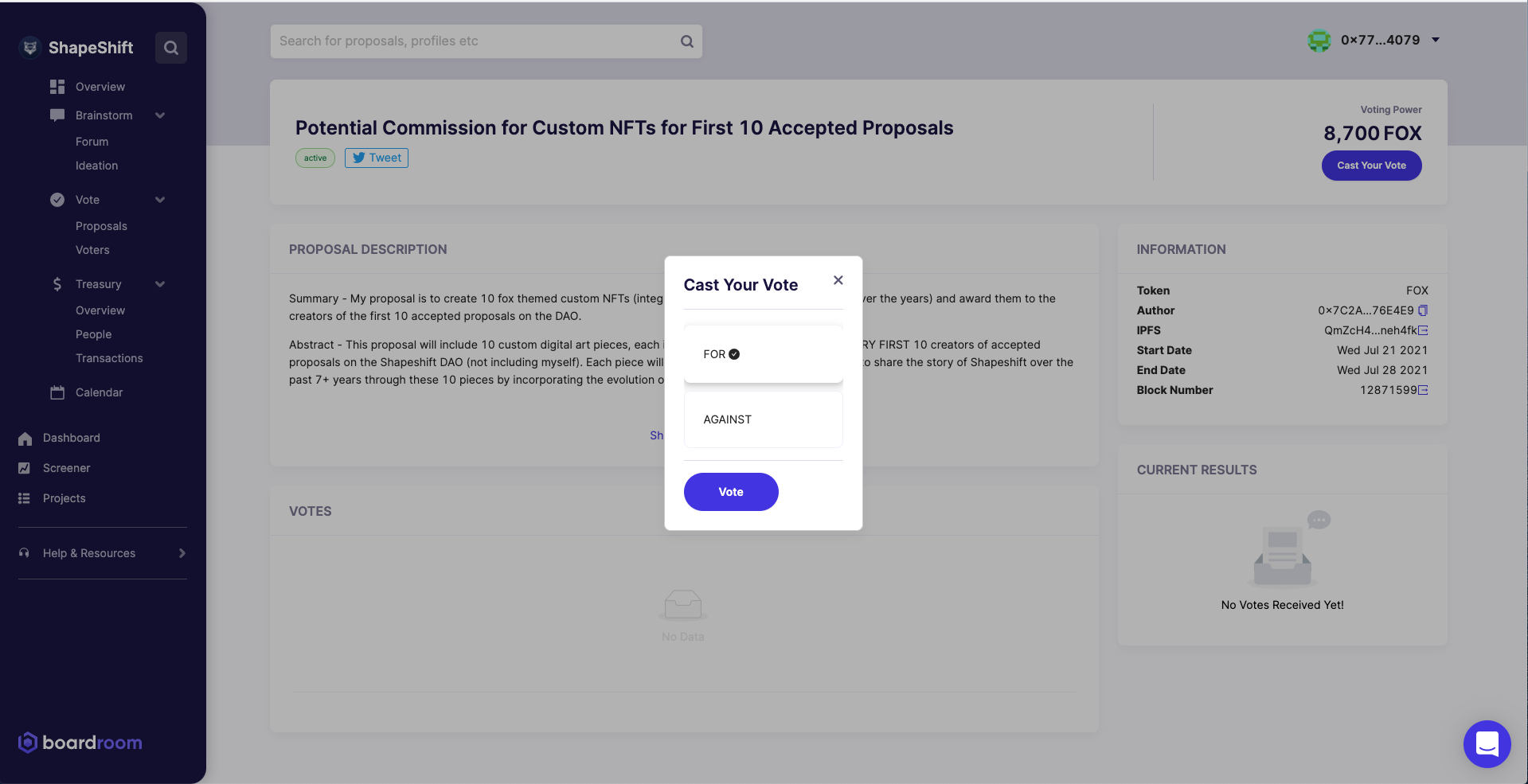 Boardroom is a powerful tool for anyone participating in multiple DAOs – an easy to use portal where monitoring, discussion and voting all take place from a single interface.  
The team is adding new DAOs, features, and integrations at a rapid pace and I can easily see it becoming a standard part of my daily workflow. I'd highly recommend it to other DAO voters.
(Note: One feature I'd love to see implemented is a filter on the dashboard which allows me to only see proposals from DAOs I've favorited.)